Case Studies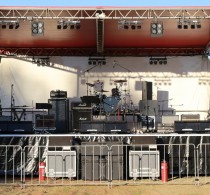 Nameless Festival – Tom Price, 7/08/2015
Flow Festival 2017
Dream Catcha Productions proudly sponsored Flow Fest 2017, the multi day camping festival at an unmarked location in Serpentine WA.
DCP provided our Ground Stacked Adamson system with HK 115s as monitors. X32 desks at FOH and Side of stage. Complete with a spectacular light show!
Japan Festival – Perth, 22/02/2014
On Saturday the 22nd of February, 2014, Dream Catcha Productions provided sound for the inaugural Annual Perth Japanese Festival, held outdoors in the Perth City Centre, or more commonly known as Forest Place. The DC team utilised the sleek HK Elements system for the event.
The original event specs for the festival had booked one of our ½ HK Contour Array Systems (2 x CT208 and 2 x CT 118 aside), but unfortunately the Full Contour System was set to be utilised for another event on the same date. This, of course, meant that the festival spec had to be revisited.
The solution to this minor problem was to use the full HK Elements System, comprising of 1 x E210 SubAS, 1 x LSub1200, and 3 x E835 Mid/High units per side, to run the festival. DC Productions Director Craig Skelton, one of the leading members of the Japan Festival team, stated; "I felt the portability, the elegant sight lines, and the sound quality [of the Elements System] would be perfect for this job. The system goes together so efficiently that set up and pack-down times are greatly reduced".
The neat Element stacks fit perfectly on the 13mx8m stage, and had minimal effect on sight lines from any angle at the venue. The minimal physical impact and the elegant, unassuming aesthetic of the system greatly impressed our client, the Consulate-General of Japan. "I think it very much appealed to their sensibility", commented Craig.
The venue of the event, Forrest Place, is an area 44m deep and 22m wide. Throughout the festival, marquee stalls had been set up around the Place, lining one side and the far end from the stage. This, combined with the ever popular 12mx12m 'Water Labyrinth' feature in the centre of Forest Place, meant that the PA system had to overcome the noise of barter, running water, playing children, and general city business, to provide sound to all corners of the venue. The coverage the Elements system provided was excellent; easily reaching all the way to the marquees at the rear, and providing clear sound to all attendees of the festival – which numbered at over 700 people at the peak of the day.
The Japan Festival consisted of several martial art and dance demonstrations, a Cosplay competition, multiple contemporary bands, and several speeches made by prominent members of the community, including Consulate General Funayama and the Lord Mayor of Perth, Lisa Scaffidi. The Elements system catered for everything, providing smooth, far-reaching coverage for the whole day. Craig commented on the system; "It is an amazingly powerful system for its size, and the sound quality is superb".