Small Band PA Side Mix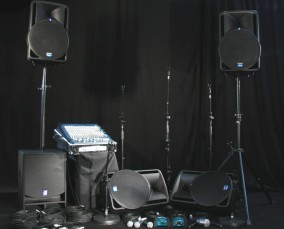 Hire Price: $400
/ day (inc GST)
2 Days or More Hire Price:$350 (inc GST)
For use by bands who require a little more oomph, with a sub, bigger fold back and extra microphones for instruments, this PA provides extra power, but can still be used without the associated costs of an operator.
1 x Allen & Heath Mix Wiz 16:3 Mixing Desk or Suitable Alternative
4 x dB Opera 405 Active 15in Speaker
1 x dB Sub15 Active 15in Subwoofer
3 x Shure SM58 Vocal Microphone
3 x Shure SM57 Instrument Microphone
2 x AR133 DI
9 x XLR – XLR Microphone Cable
1 x Shure Beta 52A Kick Drum Microphone
3 x K&M Boom Microphone Stand
3 x K&M Boom Instrument Stand
2 x K&M Speaker Stand.
All Associated Speaker and Power Leads
Suitable for medium sized band playing to 100-200 people without an operator.
Ask Us About This Product