Full Band Setup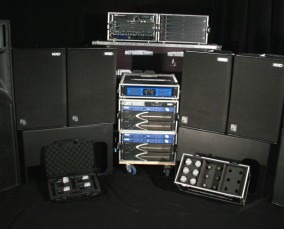 Hire Price: $1,765
/ day (inc GST)
2 Days or More Hire Price:$1500 (inc GST)
DC Productions is fully equipped to take care of the vast majority of regional touring and high quality event production. Customising each event system to your personal requirements, we find the base system outlined below more than adequate for the majority of events for 400-800 people.
4 x Single Sends of Nexo PS15 Passive 15in Speakers
1 x Midas Verona 32 Channel Console or Midas Venice 24 Channel Console
1 x Nexo Geo12 Single FOH per Side
1 x Nexo LS1200 18in Sub per Side
1 x dB Tech 82-15P Drum Fill
Out Board Effects to your requirements (2 included in package)
Graphics to your preference
Mic kit as per spec (up to 18 non exotic microphones included)
Installation/Removal (system engineer/FOH Operator extra)
All Associated Speaker and Power Leads
Optional extras: (not included in package price)
MIXWIZ16 or Midas Venice 24ch Monitor mix
2 x dB Tech 82-15P Side Fill
Fully customised to your requirements, Base Package as above.
Ask Us About This Product